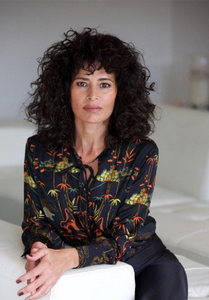 Class Details:
Viewers will be learning the fundamentals and the relationship between makeup, color and image and how to align them.  There will be a special guest appearance from Carolina Aubele, Image Consultant and Fashion Designer in Argentina, known for her book Color. 
Paola Orlando Instagram: @paolaorlando
Carolina Aubele Instagram: @carolinaaubele
Class Duration & Type:  90 MIN. Previously Recorded, Now Available On Demand!

Bio:
Makeup & hair artist Paola Orlando was born in Argentine. Paola grew up in the salon, where her father, a famous hairdresser, worked and still perform his magic to these days. Paola's livelihood runs in her blood. However, it wasn't always this way.
Originally, she set out studying business but eventually, with her creative juices flowing, she decided to follow in the same footsteps of her family. She moved to New York City in 1994 and studied makeup at Alcone, Make up center and Parson's school of design.
Paola travels worldwide searching for what is different. Making her colors mixed and always following originality.
Details, perfection and exigency are the three pillars of her work.
Paola's work has appeared in V magazine, Vogue, GQ, Elle, Marie Claire, Glamour, Esquire, Rolling Stone, Interview, Zink, Details, Fitness, W magazine, L'uomo Vogue and others.
She worked with many known photographers, just to mention some, Billy Coleman, Chino Moro, Oleg Covian, Ricardo Tinelli, Gilles Bensimon, Claus Wicraft, Eva Muller, Joseph Mulligan and Bruce Weber.
When it comes to advertisement she have clients such of Bumble & Bumble, Tommy Hilfiger,Perry Ellis, Levi's, Cosabella, Vichy, Lancome, Neutrogena, Bensimon, Rebook, Fila, Walmart, Chico's, etc.
She had done fashion shows for Nordstrom, Macy's, Calvin Klein, J Crew, Victoria's Secret, Cynthia Steefe, Levis, Tomas Maier, Shiseido, Chole and more.
Some of the celebrities Paola has worked with include Roberto Cavalli, Byork, Jessi Klein, Jane Segmore, Christian Satler, Venus Williams, Alvaro quiros, Lebron James, Chris Bosh, Camilos Villegas, Susana Gimenez, Chris Evert, Anna Kurnikova, Stacy Lewis, Simon Cowell, Katie Couric, Daniela Urzi, Adriana Lima, Miranda Kerr etc.
Paola has many concerns about makeup and it's uses. For her the most important step in a makeup is what people aren't supposed to see or recognize. Paola says," Foundation + Concealer + toner is a combination of steps that without, you can't create a good artistic makeup". In other words, this is the canvas, which belong to a frame. After this, you can draw an infinite amount of things and play with colors on a clean and corrective face.
In her free time, Paola loves to create abstract type art pieces and travel to exotic destinations. In the future, she would like to develop her own cosmetic line.