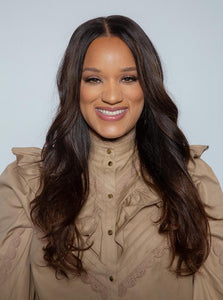 Class Details:
We are going to journey the Red Carpet with textured hair and a touch of classic style that anyone can accomplish.

Class Duration & Type: 60 min. ZOOM Interactive Demonstration.
On Demand! (Once you purchase you will see a link for your video at your checkout completion screen. You will also receive an email from deliveries@skypilotapp.com, check your spam folder if you do not see it in your inbox. Save this email as it is your only access to your purchased content)
Bio: 
Nakia Rachon is a professional celebrity hairstylist, global speaker,
entrepreneur and beauty expert. With the utmost honor she has serviced
high profile clientele all over the world, including Beyoncé Knowles-Carter, Shawn
"Jay-Z" Carter, Tia Mowry, Kelly Rowland, Michelle Williams, Solange, Mrs. Tina
Knowles- Lawson, Marsai Martin and many more.
Divinely Divinely stemming from a lineage of matriarch hairstylists while growing up in Del
Paso Heights, a predominately underserved neighborhood in Sacramento, CA,
both her great-grandmother and grandmother imparted an innate interest and

talent that is fundamental to Nakia's unique essence and identity. While master-
ing her skillset in various family salons and institutional-cosmetology programs,

she too acquired a humble perspective coupled with expertise that has markedly

grounded Nakia throughout her career. With over 13 years of experience as a styl-
ist and a decade in the entertainment industry, Nakia's work has been featured in

global brand partnerships, editorial publications, television programs, tours, and
films.
New heights continuously cause Nakia to reach back to her community to

empower and encourage others who are following their dreams. She feels incred-
ibly blessed to do what she loves. Nakia effortlessly leads people to love outward

appearance and this simultaneously creates space for them to transform their
confidence within.
If she's not on set, or launching her newest beauty product, you can find her at
home in Los Angeles with her husband and two children dreaming up her next
venture that will shift our world for the better.