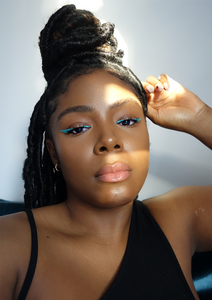 Class Details:
How to cover hyperpigmentation while keeping skin looking fresh and effortless + a fun pop of color that can be added to any daytime look
Instagram: @jonetwmakeupClass Duration & Type:
  60 - 90 min. On Demand! (Once you purchase you will see a link for your video at your checkout completion screen. You will also receive an email from deliveries@skypilotapp.com, check your spam folder if you do not see it in your inbox. Save this email as it is your only access to your purchased content)
Bio:
Talented, passionate, and ambitious Jonet discovered her love for art many years ago while growing up in New Orleans, one of the world's most eclectic and inspiring cities. Jonet was admitted into the gifted art program of her high school where she began to master color theory, symmetry, texture, and innovation. One of her most profound memories of her days in gifted art is the time she spent helping to paint the murals under the Caiborne bridge in the famous Treme neighborhood. Many years later these murals remain in honor of the spirit of the community and have become a part of New Orleans history.
In 2005, jonet translated her love for art into her love for beauty as she became a makeup artist for a cosmetic brand during her sophomore year of college. Here the feeling of making someone see the beauty within themselves became her greatest passion. Still drawing influence from the art of painting, her style focuses on the fusion of flawless skin, modern beauty elements, and abstract expressionism.
During the winter of 2014, Jonet moved to New York City determined to further her career and artistry. With a willingness to learn and an eye for perfection Jonet has gained a loyal clientele within the entertainment, fashion, commercial, and film industries. Jonet brings a calming spirit and vibrant energy to set that makes for an open and creative space. Her fun and sweet personality will leave you feeling as though you've known her for many years. Today her ambition to be an inspiration within the world of beauty is stronger than ever.