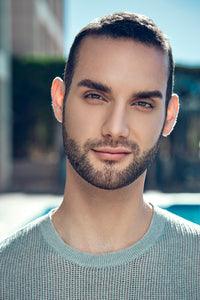 Class Details:
Soft Sculpting- Creating undetectable and multi-dimensional complexion using watercolor techniques.

Instagram: @aaronpaulbeauty

Class Duration & Type: 60 min. ZOOM Interactive Demonstration.

On Demand! (Once you purchase you will see a link for your video at your checkout completion screen. You will also receive an email from deliveries@skypilotapp.com, check your spam folder if you do not see it in your inbox. Save this email as it is your only access to your purchased content)

Bio: 
With 15 years of experience in the makeup industry spanning fashion, celebrity, and beauty, Aaron is known for creating beautifully seamless makeup looks whether light or dramatic. With his background in painting and dance, makeup was a natural progression for Aaron. Fusing his experience with makeup theory, Aaron has created a style that is precise and gentle. He uses his advanced knowledge of color, light, and angles to transform women to their highest beauty potential. Aaron's mission for his artistry is for the admirer to always notice the beauty of the subject before the makeup.