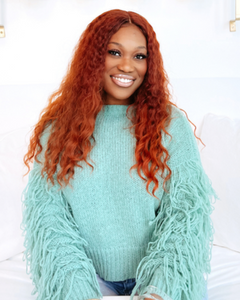 Class Details:

Learn Terri's Signature Radiant Holiday Eye Glam Technique

Instagram: @terriwatsonbeauty
Class Duration & Type: 60 min. ZOOM Interactive Demonstration.
On Demand! (Once you purchase you will see a link for your video at your checkout completion screen. You will also receive an email from deliveries@skypilotapp.com, check your spam folder if you do not see it in your inbox. Save this email as it is your only access to your purchased content)
Bio: 
Terri Watson, a 25 year old, Atlanta native, is the epitome of passion-driven. She began her journey of makeup artistry in late 2016 and her motto "this is deeper than makeup" has stuck since then. She spent 5 years building a beauty brand loved by many. In the meantime, she has also shared social media, marketing, and branding tips. She has worked with your favorite brands such as, Africa's Best Hair Care, Rolling Stone, Love and Hip Hop, Good Morning America, Nike, the list goes on. She soon realized that there was something missing in the beauty industry and decided that she would do something about it. In early 2021, she pivoted to educating MUA's on business, branding, and artistry. Her goal is to help makeup artists stop short changing themselves, attract high value clients, and crush their business goals. Holding herself to a high standard, Terri is a visionary, a leader, and a cultivator of creating opportunities that lead to life-time connections.