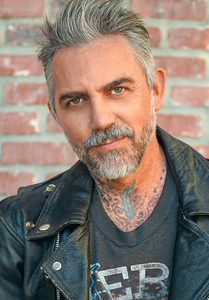 Class Details:
How to attain your favorite Celebrity looks even if you don't have a team of professional hairstylists on call to help! Call me your fairy—(or hairy)—godfather, your extensions guru. I've created the ultimate guide to the best ways to use your clip in hair extensions so you can finally get the butt-length/baby bangs/curly shag/ponytail-whipping hair of your dreams. Learn how to wear, cut, and style your extensions like a pro.

Instagram: @brandonliberati
Class Duration & Type: 90 MIN. Previously Recorded, Now On Demand!

Bio:
Brandon Liberati is an international celebrity hairstylist and television personality. He divides his time between Los Angeles, San Francisco, and New York. Brandon is not only a well-known hairstylist working with some of the top tv, movie, music, fashion and Broadway stars; he is also known for being in front of the camera and also as a haircutting educator for Hattori Hanzo Shears. He has worked with celebrities that include Lady Gaga, Kathrine Narducci, Mena Suvari, Megan Trainor,  Khloe Kardashian, Anne Winters, Teresa Giudice, Rose McGowan, Nakita Dragun and Mercedes Javid "MJ". His influential styles and beauty expertise is featured in magazines such as InStyle, WWD, New Beauty, Essence, Women's Health, Off The Rails, and L'Officiel. His client list includes talent on movies & shows like The Irishman, American Horror Story, 2 Broke Girls, American Housewife, Will, and Grace, The Real Housewives, Insatiable, 13 Reasons Why, Orange Is The New Black, and Shahs of Sunset. He is the star of an international hit reality television show Newlyweds, The First Year, and has appeared on Shahs of Sunset, Watch What Happens Live, American Beauty Star, Buzzfeed, and RuPaul's Drag U.