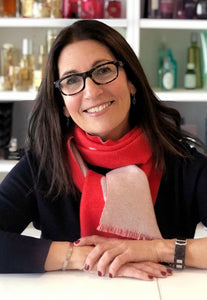 Class Details:

While party-hopping and hosting big gatherings for family and friends may not be a reality this holiday season, it doesn't mean that we have to compromise on our festive holiday beauty game! Makeup mogul Bobbi Brown and the founder of new clean cosmetics line, JONES ROAD, will take you on a step-by-step journey to creating the perfect holiday makeup look, no matter how you're celebrating this season. Using all of the products in her new collection (and maybe some new JONES ROAD products that haven't even launched yet – shhh!) Bobbi will teach you how to create the ultimate at-home glow this holiday season. Highlights include:

1) Accentuating the Eyes: while we may be behind masks most of the time, we still can make those eyes really pop. Bobbi shows us how.
2) Doing Makeup for Zoom: Tips and tricks from Bobbi on how to look great on your holiday Zoom calls with friends and family
3) Beating Holiday Exhaustion: Whether you over-indulged on the champagne last night or you're just plain wiped out like the rest of us, the first place the stress shows is on your face. Bobbi shares her best tricks on how to stay healthy and look great throughout the holiday season.


Jones Road Beauty Discount Code:  JONESPRO30

Bio:

Bobbi Brown is a beauty industry titan, world-renowned makeup artist, best-selling author, sought-after speaker, and serial entrepreneur. As a professional makeup artist, Bobbi created 10 simple lipsticks that evolved into a global beauty empire. She has written nine beauty and wellness books and is a New York Times bestselling author. Since leaving her billion-dollar company Bobbi Brown Cosmetics in October 2016, she has launched Beauty Evolution, LLC and was certified as a health coach through the Institute for Integrative Nutrition.  
Bobbi has returned to her roots as an entrepreneur. Her latest endeavor is EVOLUTION_18, a line of beauty-inspired wellness products. Driven by Bobbi's insatiable curiosity for all things lifestyle, she also curates the editorial website, justBOBBI.com. In addition, she and her husband, Steven Plofker, lovingly reimagined The George, a 32-room design-inspired boutique hotel located in Montclair, N.J.