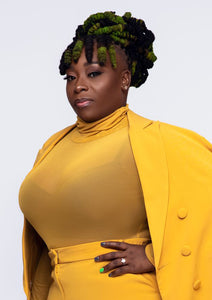 Class Details:
Coming Soon!
Instagram: @hairbyrelle

Class Duration & Type:  90min. On Demand! (Once you purchase you will see a link for your video at your checkout completion screen. You will also receive an email from deliveries@skypilotapp.com, check your spam folder if you do not see it in your inbox. Save this email as it is your only access to your purchased content)

Bio:
Sherelle Holder, The Owner.
"Doing natural hair is my passion and I'm in love with every aspect of it"
As the owner and stylist at KARIBBEAN KINKS, I fell that communication is key to have a great salon experience.
The ability to find the delicate balance between fulfilling each client's individual styling desires while maintaining an open forum for self expression is what set me apart. I love building strong connections with my clients and helping them express their personalities through their appearance! I specialize in natural hair care for Men, Women and Children. My attention to detail makes me an expert at what I do. Doing hair is my passion and I'm in love with every aspect of it!
Originally born and raised in Trinidad and Tobago I moved to the states in 2001 looking for a new adventure.
My work has been featured in ESSENCE MAGAZINE ONLINE, COSMOPOLITAN AND ALLURE.