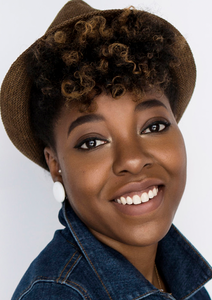 Class Details:
Andrea C. Samuels, award-winning make-up artist, has worked behind the scenes nationally and internationally for major clients such as Nike, Mizani, Target and Playboy; she is ready to share her techniques with you. Andrea will discuss these key topics during the class:
- Color Theory & Skincare for Women of Color
- Basic Hair Styling for Curly and Coily hair types
- On-set Makeup & Hair changes
Instagram: @andreasamuels_

Class Duration & Type:  60 - 90 min. On Demand! (Once you purchase you will see a link for your video at your checkout completion screen. You will also receive an email from deliveries@skypilotapp.com, check your spam folder if you do not see it in your inbox. Save this email as it is your only access to your purchased content)

Bio:
Andrea began her creative career drawing and sketching people at the age of two, eventually earning a scholarship to complete a semester for The School of The Art Institute at age nine. In 2009, Andrea Samuels graduated from Make Up First LLC and obtained her IL State Certification for Makeup Artistry. Between 2013 through today, Andrea has assisted some of the industry's top makeup artists such as AJ Crimson, DeShawn Hatcher, Ashunta Sheriff, Gabriel Almodovar, Violette, Gucci Westman and Sir John Barnett. Andrea is the first makeup finalist for the Fall 2015 "VFiles Made Fashion" Show at New York Fashion Week and was the Key Artist for four runway designers sponsored by V Magazine. Andrea's work can be found with clients such as Nike, Playboy, Target and Hard Rock Hotels.